Brochure

Contact Us

View brochures Download our smart film and design film brochure (11.4 MB)

Callback/Contact Us
Please give us a call on 01752 252583 or fill in your details below and we'll call you back.
Alternatively email us on info@adswindowfilms.co.uk
Window films can help solve difficult glass related problems: Here are 6 types of window film and how they can help
Feb 2019
Reflective, tinted and opaque films that give privacy
Reflective and tinted window films that cut heat and glare in buildings also set up a one-way vision effect which gives daytime privacy under most lighting conditions. Special purpose made films are available to enhance this effect. ADS also supply and fit frosted and opaque films to give full 24-hour privacy.
Fade reduction films that prevent damage to light sensitive materials
Crystal clear and practically invisible, fade reduction film is used to protect light sensitive materials from shop displays to carpets, curtains and even museum exhibits. It works by eliminating 99% of harmful UV rays, the biggest single cause of fading. Because it's a permanent fixture on the glass it works all day, every day. Plus, its easily cleaned and has no maintenance requirements.
Solar Window Film transforms comfort levels
As the ideal solution for heavily glazed areas, the film rejects heat, glare and up to 99% of harmful UV rays whilst still allowing plenty of light through. Not only does this create a more favourable living or working space but it also reduces the fading of interior fabrics, furnishings and materials. Solar window film deals with unwanted heat and glare by creating a barrier that prevents excess solar energy from penetrating the glass. Up to 80% of unwanted solar heat and glare is rejected preventing overheating and leading to reduced eyestrain and vastly improved comfort.
Energy Saving Window Film going green
Energy Saving Window Film gives you the perfect balance of energy efficiency, comfort and cost savings, all year round.  It is especially designed to reduce the heat escaping in winter and lessen the searing heat in summer, therefore saving on  our energy bills. This means that in the winter months the heating can be turned down and in the summer the air conditioning doesn't need to work as hard. The product still allows sunlight to enter, but substantially reduces harmful UV rays and uncomfortable heat and glare making it easier for you to watch television or work on a computer.
Super strong window film that provide safety & security
Safety Window Film is a super strong material that has become renowned for its ability to hold glass together under impact. This means that even if glass gets broken, the fragments are held securely together which prevents injury and creates a barrier to crime. Safety film has been installed in many buildings from shops to schools and hospitals to military bases. The benefits include defeated break-in attempts and the costs of vandalism are greatly reduced.
Automotive films that transform vehicle looks and comfort
Window tinting has become the essential 'extra' for many car owners. It keeps vehicle interiors cooler and more comfortable. It helps reduce glare and eyestrain and protects vehicle upholstery from fading. In addition to this, window tinting strengthens glass for safety and security and helps shield people and valuables from view. Plus, when expertly installed by ADS, it adds stunning looks to any vehicle.
To find out more information about our vast range of window films, give us a call on 01752 252583 or email us at info@adswindowfilms.co.uk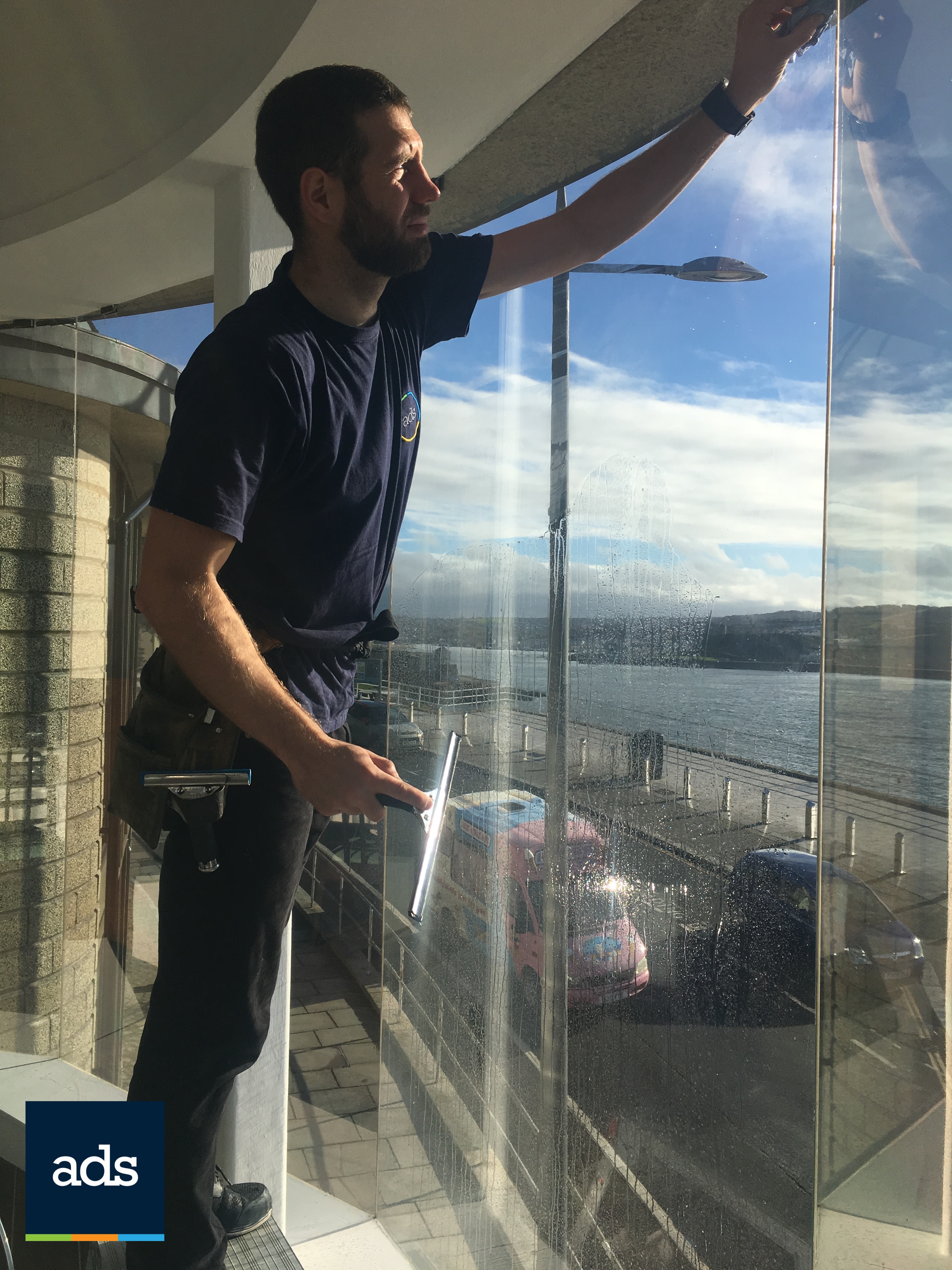 Explore our range of window films, smart films and car tinting options
Areas covered
ADS Window Films has been established in Plymouth since 2001, with their main offices conveniently located in the centre of Plymouth and a further presence in London. ADS Window Films cover the whole of Devon and Cornwall and the south west region, including: Bath, Bristol, Exeter, Newton Abbot, Penzance, Plymouth, St Austell, Taunton, Tiverton, Torquay and Truro. ADS Window Films have now acquired a presence in London to cover both London and the Home Counties and have carried out projects throughout the United Kingdom.
Do you have a question to ask regarding window film?
If you have a question about any aspect of window film, smart switchable films or car tinting films, please call on 01752 252583 or email us at info@adswindowfilms.co.uk. Alternatively, please use our general enquiry form below.
What our customers say...
We contracted ADS to fit a series of different types of window films to our two story office. We could not recommend ADS highly enough. Their service, professionalism and efficiency in fitting was second to none. We are really pleased with the results and the switchable film particularly, is a real talking point.
Top firm, top guys, top product. Very impressed. 5*
Friendly professional service. Made us feel very welcome from start to finish! Our car looks amazing and will certainly make a difference. We would highly recommend to anyone! Thank you again!
A very efficient service with very friendly and knowledgeable staff.
Brilliant firm, they have now done 2 of my cars and a fantastic job on my house. Before you speak to anyone about getting your windows done speak to these guys.
I spent ages reviewing different companies to make sure I found the best place to tint my windows and ADS is definitely that!
They have done a superb job on my Ford Focus. Really professional service. The film quality is second to none. I went for the premium film and although it's perfectly dark on the outside, inside I still have perfect visibility.
I would recommend ADS to anyone. Very impressed.
Fantastic service, professional and knowledgeable staff , nice clean waiting area with free wifi!!! And a lovely mug of coffee .This is the only place we go to have our vehicles window tinting done. So far they have done the tints on 4 of our cars!!
Professional from start to finish – Adam the installer rang to say he was running a little late and kept me informed. When arrived he was polite, professional, clean and tidy – sorry the access to the windows weren't the easiest. When he left you'd never know he'd been in our offices except the excellent window films and no complaints from the staff – result!
ADS were quick to respond to my initial enquiry and were able to fit my work in between jobs. They kept me informed, met times advised and were professional and courteous.