Brochure

Contact Us

View brochures Download our smart film and design film brochure (11.4 MB)

Callback/Contact Us
Please give us a call on 01752 252583 or fill in your details below and we'll call you back.
Alternatively email us on info@adswindowfilms.co.uk
How Switchable Smart Window Film can revolutionize your home…
Mar 2019
With more and more people renovating their current homes or buying new builds, glazed doors, facades and large windows are becoming an integral part of the modern home.
We all love windows and glazed areas because they make a great addition to any home creating an illusion of greater space and flooding the home with light. However, privacy is sometimes compromised unless you cover the glazing up with curtains or blinds.
Switchable Smart Window Film allows you to ditch the dust collecting blinds and have instant privacy at the flick of a switch. Acting as an 'electronic blind', it provides complete control over the privacy and security of your home.
One of the huge benefits of our Switchable Film is that it can be applied to existing glass. A great alternative to switchable glass and a great deal less expensive.
Switchable Film can be used all over the home with some popular applications being bi-fold doors, bathrooms, french windows & glazed facades. In addition to this, it can be shaped to your requirements with slanted edges, holes, round edges etc.
Our Smart Switchable Film in its off mode, is translucent not tinted and it does reduce glare by acting as a light diffuser solving the age-old problem of "I want to reduce glare, but I don't want to be in the dark". It will protect you from 99.6% of harmful UV rays in both it's clear & frosted state protecting your skin and reducing the fading or your soft furnishings.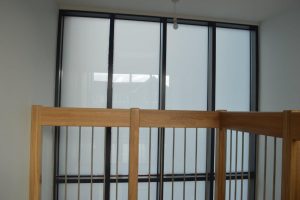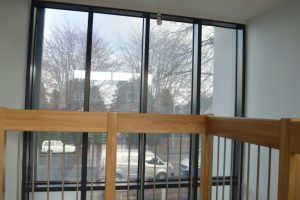 The film can be activated by remote control as well as voice activation with the help of Alexa. Alternatively, it can be switched on and off with an APP which also enables you to set timed switching. A Smart Home Panel can also integrate your Switchable Film so its as easy as turning off the central heating.
ADS has over 6 years' experience installing this film and our installation service, includes the application of the film to the glass and leaving two wires coming off each piece of film for your electrician to connect.
The most important question many people want to ask, but often are reluctant to, is about the price? Although it is in everyone's interest to understand the price before spending time on the detail, each project is priced on various factors. Along with the film, other costs include an initial survey then the installation itself, transformers, electrical installation, fitting sundries and travel. It isn't cheap but it's effective and once installed, will bring many years of satisfaction.
We are happy to email you a supply & install cost or supply-only price. In order to give you an exact price, please email us with your individual pane sizes and location so we can calculate wastage and travel costs.
Contact us on 01752 252583 or email us at info@adswindowfilms.co.uk
Visit our dedicated website – https://www.smartfilmuk.co.uk/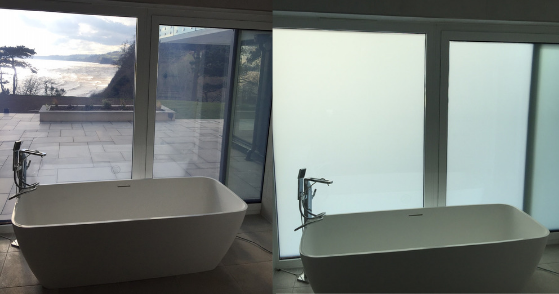 Explore our range of window films, smart films and car tinting options
Areas covered
ADS Window Films has been established in Plymouth since 2001, with their main offices conveniently located in the centre of Plymouth and a further presence in London. ADS Window Films cover the whole of Devon and Cornwall and the south west region, including: Bath, Bristol, Exeter, Newton Abbot, Penzance, Plymouth, St Austell, Taunton, Tiverton, Torquay and Truro. ADS Window Films have now acquired a presence in London to cover both London and the Home Counties and have carried out projects throughout the United Kingdom.
Do you have a question to ask regarding window film?
If you have a question about any aspect of window film, smart switchable films or car tinting films, please call on 01752 252583 or email us at info@adswindowfilms.co.uk. Alternatively, please use our general enquiry form below.
What our customers say...
We contracted ADS to fit a series of different types of window films to our two story office. We could not recommend ADS highly enough. Their service, professionalism and efficiency in fitting was second to none. We are really pleased with the results and the switchable film particularly, is a real talking point.
Top firm, top guys, top product. Very impressed. 5*
Friendly professional service. Made us feel very welcome from start to finish! Our car looks amazing and will certainly make a difference. We would highly recommend to anyone! Thank you again!
A very efficient service with very friendly and knowledgeable staff.
Brilliant firm, they have now done 2 of my cars and a fantastic job on my house. Before you speak to anyone about getting your windows done speak to these guys.
I spent ages reviewing different companies to make sure I found the best place to tint my windows and ADS is definitely that!
They have done a superb job on my Ford Focus. Really professional service. The film quality is second to none. I went for the premium film and although it's perfectly dark on the outside, inside I still have perfect visibility.
I would recommend ADS to anyone. Very impressed.
Fantastic service, professional and knowledgeable staff , nice clean waiting area with free wifi!!! And a lovely mug of coffee .This is the only place we go to have our vehicles window tinting done. So far they have done the tints on 4 of our cars!!
Professional from start to finish – Adam the installer rang to say he was running a little late and kept me informed. When arrived he was polite, professional, clean and tidy – sorry the access to the windows weren't the easiest. When he left you'd never know he'd been in our offices except the excellent window films and no complaints from the staff – result!
ADS were quick to respond to my initial enquiry and were able to fit my work in between jobs. They kept me informed, met times advised and were professional and courteous.